I started writing this
Search Founder
series to keep myself accountable while launching a startup during business school. The search is over, and
Velvet
is officially launching at the end of March. We have funding, I brought on a technical co-founder, and we've been heads down building the MVP product.
Follow our launch on Product Hunt
→
Materializing a startup idea into existence
Turning an idea into a tangible business feels like pulling teeth. Startups only get through the 0-1 phase through continued effort–persistence, optimism, experimentation, collaboration, and a fair amount of luck. Being an entrepreneur is the only thing that feels truly satisfying to me, so wading through this uncertainty was my only path forward. 
I spent last summer as an entrepreneur in residence at Chicago Ventures. They gave me the autonomy to run sourcing sprints, pitch deals to the investment team, and participate in investment decisions. I focused the rest of my time on getting Velvet off the ground. This felt like an excruciatingly long process, as I was eager to start building the product (any product!). I spent my time going to hackathons, talking to any relevant person on the internet who would take a call, co-founder dating, and putting together pitch decks (hundreds of them) to validate my ideas. 
I was also wrapped up in the world of web3. I dipped a toe in, and was quickly sucked into an alternate reality involving anonymous Twitter personalities, invite-only chat communities, invites to speak on opinionated panels, and many meetings with "self-sovereign individuals".  I learned quickly to keep up with the inflated momentum of the crypto bubble, questioning the existing financial system and infrastructure. Spoiler alert: I'm not starting a crypto company. But this period forced me out of my comfort zone, resulting in a new clarity for how the internet might work in the future. 
After going deep into mainstream web3 use cases, I realized I didn't care much about the tokenization of digital assets–a problem for someone else to solve. But as a product designer, I was inspired by the rapid iteration in user experience happening at these crypto hackathons. 
For the first time in ten years, I saw technologists designing new interaction paradigms that could make transacting online far more enjoyable. Once you adopt a wallet, it's just one tap to authenticate, one tap to approve a transaction, and one tap to sign in as a returning user. I had spent my career optimizing conversion funnels for consumer app companies, and this was the most effective application of product onboarding and retention I had ever seen. 
I began to imagine a less fragmented online reality. One where I could use a wallet to more fully control my products, payments, and identities–anywhere online. 
The logistics of starting a company
Once I had a tangible focus for the business, it was time to get things rolling. To build the ambitious business I imagined, I needed three things - funding, a technical co-founder, and a product to sell. 
During the first year of my MBA, I forged a meaningful relationship with the Chicago Ventures team. I started working there as an intern on the investment team, became their entrepreneur in residence, and had monthly meetings with partners Jackie and Peter to discuss the Velvet business model. In November, they decided to invest. This early funding gave me the capital I needed to incorporate the company, hire a team, and finally start building the product.
I wanted a true co-founder to build this business with, so I continued to search for the ideal technical partner. In late November, I met
Chris Hendel
through a series of mutual professional connections. He checked all the boxes: A product-driven software engineer with experience as a multi-time founder. We had parallel paths, both joining early-stage startups in the Bay Area that were acquired by Fitbit, followed by a career of serial entrepreneurship. Chris joined the team as co-founder and CTO in January. We've been heads down since then, building and validating the Velvet MVP. 
Apps with Velvet
Velvet's mission is to make online transactions more delightful. We have two primary customers; (1) Consumer app startups who need to identify users and monetize their product, and consumers who want more control over their online identity, payments, and data. 
For online businesses, we make seamless accounts and payment infrastructure. Our first product will be hosted pages to authenticate users and monetize premium offerings. Eventually, we'll introduce a developer SDK to build native cross-platform applications (iOS, Android, web, wearables, metaverse, etc). Velvet helps consumer app companies optimize their most vital metrics–conversion, retention, and lifetime value.
For consumers, we're building a unified wallet for seamless sign-on, payments, and identity. Imagine the best features of Okta, 1Password, and Venmo–giving you full control over your online presence. 
A good parallel for this business model is what Shopify did for e-commerce. After Amazon made shopping online mainstream, Shopify introduced developer tools to unlock an explosion of direct-to-consumer retailers. Brands could suddenly launch a cross-platform store in minutes, leveraging the most optimized consumer checkout experience. We're applying this playbook to digital goods–meaning any product that requires account creation or payment in exchange for digital tools, content, or services. 
Support our launch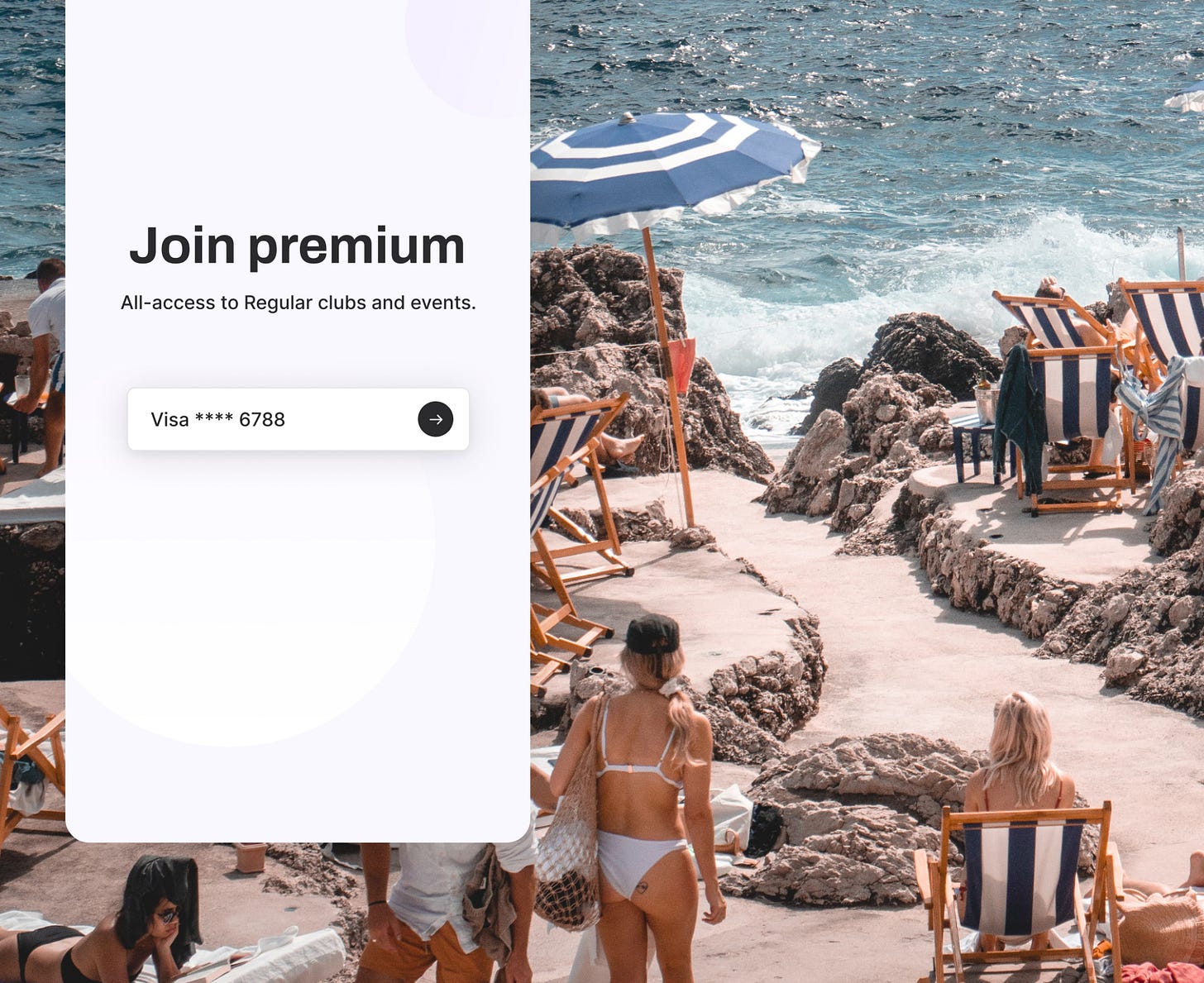 Follow our launch on Product Hunt
→